HARRIET EDLESON
Author/Journalist
PAPERBACK PUBLISHES FALL 2023
If you're getting ready to retire, thinking about retirement, or already in the process, 12 Ways to Retire on Less can help you focus on the steps you need to take to get there.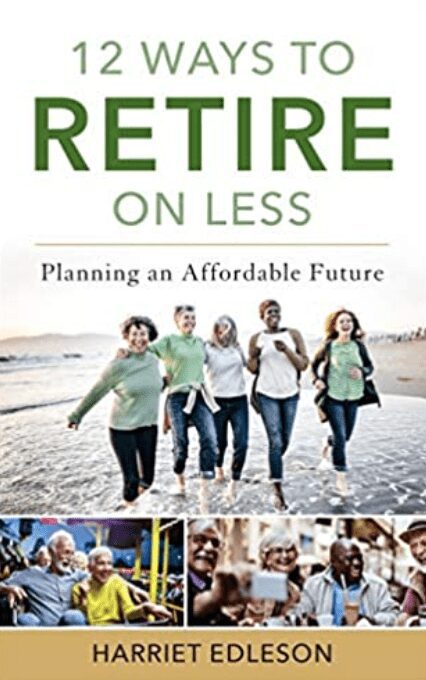 Retirement Wisdom Review – Dec 8, 2021 
12 Ways to Retire on Less: Planning an Affordable Future
by Harriet Edleson
Because of my work as a retirement coach, I read more books on retirement than most people. I found 12 Ways to Retire on Less to be a breath of fresh air. It's a well-written, no-nonsense, comprehensive guide to planning for retirement in today's challenging environment.
Planning for retirement today entails navigating a great deal of uncertainty and anxiety. Journalist Harriet Edleson highlights the practical considerations for the big decisions you'll face in planning for retirement, including when to retire or work longer; budgeting; generating income in retirement; when to file for Social Security; moving or staying in a place; housing options in later life, and the often-overlooked issue of transportation. It's a pragmatic, reality-check on retirement today that shows how there are still ways to make it work.
The strength of the book is on how to make savvy moves to optimize your resources in funding what for many people promises to be a longer retirement than previous generations enjoyed. However, my favorite parts of the book were when Edleson goes beyond those core financial topics to emphasize the importance of keeping the dreams you have for retirement in focus. In several chapters, she explores viewing retirement as an adventure and writes of discovering a new purpose and honing in on what you really want to do in this phase of life, including envisioning your dream locations and where you want to travel. Starting with this vision of retirement as an adventure sets the stage for then finding smart ways to fund your vision.
I recommend this book as a valuable resource that will help you reframe how you're thinking of your next chapters and retire smarter.
Listen to our conversation with Harriet Edleson here
---
Book report
New works by Bethesda-area writers
BY CARALEE ADAMS |SEPTEMBER 20, 2021 | 8:31 AM
After years of writing about retirement for magazines and newspapers, Bethesda journalist Harriet Edleson pulled together the advice she's learned in 12 Ways to Retire on Less: Planning an Affordable Future (Rowman & Littlefield, May 2021). She encourages readers to create a budget, consider the best time to claim Social Security, and carefully review housing options—which will likely be their biggest expense. "People are fearful of running out of money in retirement," says Edleson, who is a regular contributor to Marketwatch.com and The Washington Post. "If you plan, then you will be more likely to know what you have coming in, how much you are spending, how much you are earning, what is your guaranteed income, and you can sleep better."
Get new content delivered directly to your inbox.